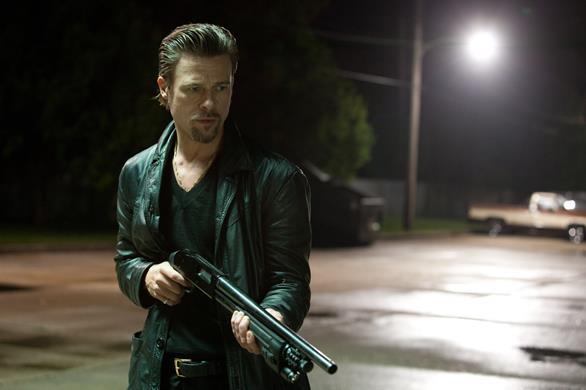 1. Killing Them Softly 
   Dir. Andrew Dominik 
I still hold Assassination of Jesse James as one of the most overlooked 'masterpieces' in recent years. It is so rich with character and with Casey Affleck and Brad Pitt giving a perfect example of subtle and multi-dimensional performances. Brad Pitt's performance was completely ignored and his was probably even the better. Going on this, Brad Pitt is back as a lead and surrounded by a real spunky gangster cast. I can not wait to see Killing Them Softly, it is going to be completely different in style to Jesse James but I hold hope that Dominik can show that he can make genres his own. If he does I see him becoming the next P.T Anderson in 10 years time. 
2. Prometheus  
   Dir. Ridley Scott
I think everyone is excited for this and if your an Alien fan then you probably get those shivers every time you see the trailer. I even like Alien 3 and even in some weird way Alien: Resurrection so you can imagine how excited I am!
3. The Master
   Dir. Paul Thomas Anderson 
P.T Anderson made himself boots of a truly visonary drector in There Will be Blood, and I can't see those boots wearing or tearing. Or I hope not. Plus Juaquin Pheonix who I always thought was a brilliant actor is making his 'comeback' after the disasturous but still well performed I'm Still Here. 
4. Like Someone in Love
    Dir. Abbas Kiarostami
Kiarostami's films have always strung my heart as well as making my brain work and fill in the intentional gaps. I think he is one of the great film makers in history. His last film  Certified Copy was his first outside of Iran and his first that seemed clean and polished. Although it was a storm with critics, it is probably the most 'European Art-House' film you can see and I thought it kept alot of humanity that were in his earlier films but covered something in its polish. Like Someone in Love looks like it will have that polish, but an even further amplified in it's beauty amongst the Tokyo backdrop.
5. Only God  Forgives
    Dir. Nicholas Winding Refn
I liked Drive so much last year that Refn next film was always going to interest me. Especially when I found out it is going to be along the lines of a martial arts thriller…with Ryan Gosling again as a lead. 
6. Mud
   Dir. Jeff Nichols
Take Shelter was one of those film that shook me right up, it was one of the best films of 2011. I also watched Shotgun Stories recently and that too was a great little film. Nichols does so well to capture little family disturbances and blow them up into large, cerebral narratives. He is great at creating a constant feeling that lingers from the start to end of his films. I don't know much about Mud but if it directed by Nichols then I am excited. 
7. Django Unchained  
Dir. Quintin Tarantino
This film is just going to creep in at the end of December, but I have very high hopes. The cast is great and the Western genre is just a perfect one that suits Tarantino style.
What are you top 7 most anticipated films for the rest of 2012?